Posted on: Mon 22nd Feb 2016
NiMAC attends the 20th International Colloquium Tribology – Esslingen.
On January 12 – 14 the Technische Akademie Esslingen (TAE) celebrated the 20th International Colloquium Tribology and NiMAC Ltd were delighted to be part of it.
Europe's largest international conference on tribology and lubrication was attended by 650 participants from 34 countries.
Over the course of the three days there were 200 presentations running in 8 parallel sessions from some of most prestigious tribologists from all over the world. Emphasis was placed on engine lubrication, machine elements, energy efficiency, metal working fluids and condition monitoring. 
The Esslingen conference provided a unique platform for the exchange of knowledge and networking between the industry and universities.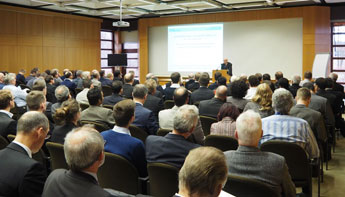 Picture ©AB-TAE