Posted on: Fri 16th Sep 2016
On your marks, get set, GREAT!
On September 11th NiMAC's Managing Director Nigel McDonald and partner Kerrie Richards joined 41,000 others to take part in the Great North Run, raising over £400 for charity in the process. 
The 13.1 mile annual race from Newcastle to South Shields is the largest half marathon road race in the world, attracting competitors from 178 UN member states which is more than any other running event in history. 
After completing the gruelling course in a rather respectable 2:04, Nigel wasn't that keen on signing up for the 2017 race just yet, 'It felt like the entire route was up hill!' laughed Nigel. 
Thanks to donations from NiMAC and the Directors of Hornett Brothers over £400 was raised for their chosen charity, Macmillan Cancer Support.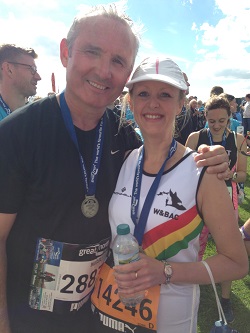 ​