Posted on: Wed 29th Jun 2016
NiMAC attends 28th ELGI AGM in Venice
During the lovely Italian spring was the time of the 28th ELGI Annual General Meeting. This first warm weather of the year, as well as the illustrious city of Venice formed the perfect frame for a conference focused around preserving natural resources and green lubrication. As a company that is committed to always act with the environment in its mind NiMAC could not miss the chance to attend.
---
During the Meeting a vast amount of presentations and speeches informed the attendees of all the facets of environmental management, natural science chemistry, and minimal impact technology. Additionally the conference was an excellent place to network, exchange information with some of the world's most reputable personalities in the chemical industry and make new acquaintances.
Dr George Dodos from ELDON'S S.A., enthralled the audience with his presentation on "Valorisation of Used Cooking Oil for the Production of Sustainable Lubricating Greased" and was described as a "great contribution to 2016 AGM's theme" and "embodiment of the spirit of the originality and technological innovations ELGI is known for". The paper and presentation focus on verifying that used cooking oils can be used in the formulation of sustainable lubricating greased for general and environmentally sensitive applications.
As part of the ELGI's best paper committee Nigel McDonald, managing director of NiMAC, described Dodos' presentation as diversified, very high standard and deserving winner of the award.
Overall the meeting was a huge success and brought, with its interesting and informative presentations and the fitting setting in the beautiful city of Venice, the importance of "Sustainability in the Grease Industry" to all its attendees.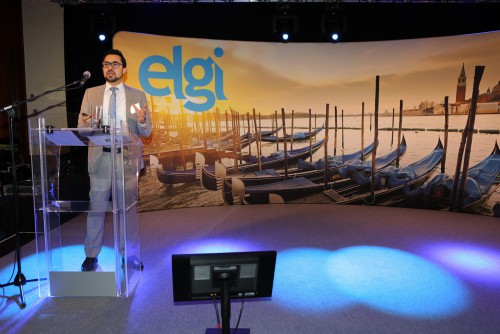 Picture ©ELGI